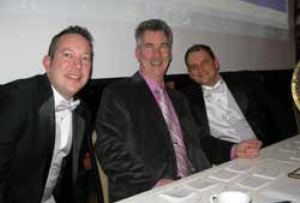 Looking for a way to increase the amount of money available to support community service efforts, in 1989 the Rotary Club of Latrobe initiated its annual Community Projects Dinner. Tickets for an elimination drawing are sold within the community and surrounding area. Those who attend enjoy an evening of fine food and fellowship while enabling the club to serve the community in a wider variety of projects.
In the months following the dinner, grant requests are received by the Grant Allocation Committee, who review them to determine whether they merit further consideration. Preference is given to "brick-and-mortar" projects rather than requests for funds for operating expenses. The committee then makes its recommendations to the Board of Directors, who make the final decision on the grants.
Immensely successful from the very beginning, this fund-raising effort has yielded more than $500,000 for grants to support special projects, primarily within the Latrobe/Derry communities.
In recent years a new feature has been added to the Community Projects Dinner—a "Community Benefactor" award. Rotary provides $2500 to the winner of a special drawing at the dinner. That winner may name the charity or organization(s) that will receive the donation.