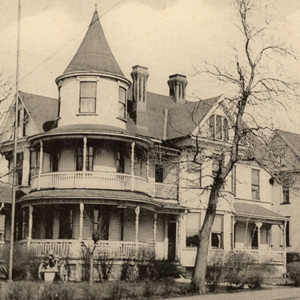 July 11, 1921,  the charter, No. 965, was formally presented to our service organization at a meeting held at the Laughner Farm near Ligonier. Following are the minutes of that gathering, recorded by Secretary Charles S. Miller:
"The Meeting was held at the Laughner Farm near Ligonier, July 11, 1921, at 6:30. Twenty-three members together with sixty visitors were present. District Governor Neville was present with thirty members from Greensburg, sixteen from Scottdale, three from Pittsburgh, four from Uniontown, and one from Dallas, Texas.
"President Sipe welcomed the visitors and after singing 'America' the president called on Frank Miller of Greensburg Rotary Club. Thomas Whiteman on behalf of the Rotary Club accepted the charter, after which Greensburg demonstrated their music ability with a song.
"President Sipe introduced Bob Smith of Greensburg who presented District Governor Neville with a gavel made of stainless steel. Roy then made a characteristic Rotary speech. Reverend Donald Johnston of the Uniontown Club talked for a few minutes in a very humorous manner. A representative from Scottdale was called on and spoke on the formation of the club at Scottdale. Dan Amand of Greensburg presented the Latrobe Club with an aluminum loving cup in the form of a water bucket.