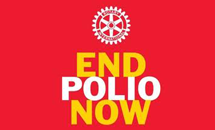 Rotary and its partners are on-track to end polio in the next few years. The eradication effort has seen significant progress in recent years:
In January 2014, we celebrated one of the world's greatest achievements in global health: India being certified as polio-free. India was once considered the hardest place on earth to stop polio. Now, India's success proves polio can be stopped in even the most challenging conditions.
In September 2015, Nigeria – Africa's last polio-endemic country – was declared polio-free by the World Health Organization.
The entire continent of Africa has not reported a polio case since August 11, 2014.
Since the global initiative began more than 25 years ago, Rotary and its partners have reduced polio cases by 99.9% percent worldwide.
When the initiative started in 1988, more than 350,000 people were stricken by polio every year – nearly 1,000 new polio cases every day.
All countries must continue to maintain high routine immunization coverage until polio is eradicated everywhere.